I've begun the annual ritual of writing my holiday letter. I'm sure you're surprised to hear I am one of those folks who includes letters in holiday cards!  But each year it's nice to stop, take a deep breath, look at the whole year, and take stock of my life.  I also hear from friends and family that they actually read it, so I keep writing.
In addition, I'm in the design stages of my holiday card.  I usually have grand plans and sometimes they come through and sometimes I fall short given other demands for time in November and December.  I'm thinking of using a postal theme this year to commemorate all of my postal-related activities of late, but we will see what the muse provides.
All this holiday thinking has me pondering my Christmas tree ornaments.  I try to pick up one or two each year that commemorate big events in my life.  Given the birth and growth of this blog over the year, I'm thinking this snail ornament from Anthropologie might be just the ticket: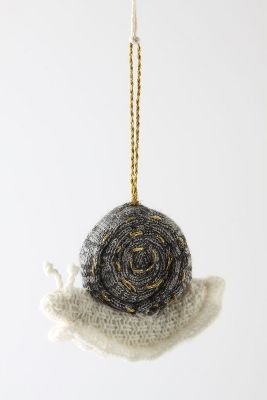 Cute! And a great way to remember all of the snail mail fun I've had this year.  What about you?  Any mail-related holiday traditions?  What's your favorite part about sending out cards?